Dearest Bad Ass Creatrix In The Making. Are You Ready To Be Seen, Claim Your Power And Rock The World?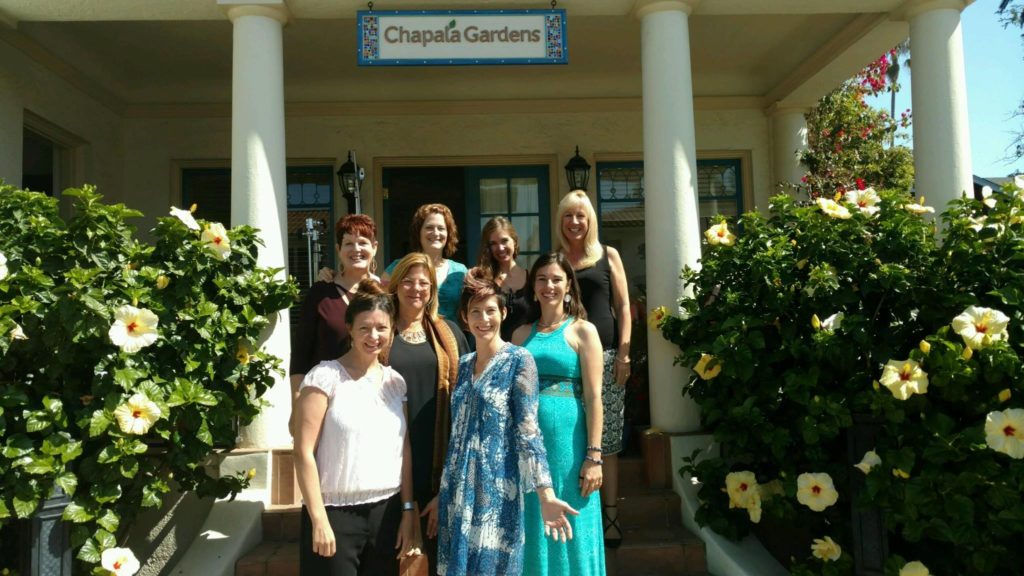 A few years back I had what I now call my Now or Never moment.
I decided to end my marriage. I have two small children, am from Germany (so no support systems here) and was recovering from a pretty nasty adrenal burnout.
That meant no more financial safety net.
It was up to me to make something happen now or pack up my bags and move back in with my parents in Germany
NOT an OPTION
I love my parents but Germany is freaking cold and people are grumpy and mean..not every one but enough of them for me to not want to ever live there again.
Not making money anymore in my business wasn't an option any longer. I conspired with the universe, was able to make 4k and book $7500 in business that first month…which was a major miracle considering that up to that point I had never made more than 10k in a YEAR and then the HAMSTER WHEEL began.
Now you have to know that living in Santa Barbara-where I live now- ain't cheap. I saw the money flying out the window faster than I could make it….because..and this is something you absolutely need to be aware of as your business grows so does the need for support. Instead of investing in cheap online group programs I started investing in high end groups and one on one mentoring. Because I didn't know what I know now, I invested in the WRONG kind of mentoring.
For about 9 months I was ending each month at the 4k mark…which comparing to making 0 the year before wasn't bad but not NEARLY ENOUGH for what I really needed and what I had committed to. The stress level mounted and mentors started kicking me out of their programs because I had fallen months behind on my payments…(I don't blame them at all. I would have kicked myself out if I was my own client).
You have to realize the reason I wasn't making the payments to them was not because I spent my money clothes or stuff, there were many days with an empty fridge glaring back at me.
Now to the part that I want you to wrap your head around:
To give you hope and perspective, shortly after I got kicked out by my mentors I did double my income and then double it again and again in a very short time. This year my company is on track for multiple six figures, and I am about to share with you what I realized that helped make this happen.
So here you go:
We, each and everyone of us, comes from a mother and father, what that means is that we are a being made of two energy streams: the masculine and the feminine.
Things like money and clients flow when energetically we are in harmony.
Most people aren't. I wasn't. What I realized was that in order to be successful in business it is crucial to master your own energy including mastering the balance between the masculine and the feminine.
Now you could think, well Carolin this sounds like you are sending me back two years of therapy and I have done those and while it helped a little it didn't really help me create the life I want…and I have to agree with you…it's not about therapy.
There are actual pieces in your business that fall under mastering the feminine energy and others that fall under mastering the masculine.
When I hired my mentors, they were either really good at some of the feminine pieces or some of the masculine, but they never covered all of it. Essentially they taught business building in a very fragmented way.
Chances are that if you have read this far you are nodding your head in agreement and LIGHT BULBS are going off left and right right now for you.
I look at business building through a very holistic lens. The more you grow and heal, the more your business is a reflection of that. Wellbeing and abundance IS our natural state, your task is to do what you can to become whole and get back to that natural state. We all had it when we came (-:
Because I have helped over a hundred people move closer to wholeness and implement these principles resulting in them breaking through money blocks and doubling their income and bringing consistency to their business, I now can very easily tell just by looking at your business where you need to focus on. Some people have a bunch of the feminine pieces in place and some a bunch of the masculine…(there are 7 for each energy).
This is not a cookie cutter systems. Can you see how you knowing exactly where you need to focus on will help you have your breakthrough? It's not about just implementing a different marketing strategy or changing your mindset.
Because learning to integrate the masculine and feminine within yourself is such so crucial I decided to create a whole business building program based on these principals.
Let me introduce the ignite mastermind to you:[/vc_column_text][vc_column_text]
IGNITE Mastermind
Ignite Your Voice, Unleash The Bada$$ Creatrix In You And Set THEIR World On FIRE
Transform your voice in CONSISTENT 5K – 10K months, unleash the Bada$$ Creatrix in YOU to create WHAT you want – WHEN you want it, claim your birthright place as the head of your Soul tribe and start a….REVOLUTION
 
VISION
Envision your soul business behind the impact you are destined to make
Dig deep within your heart for the vision only you are destined to deliver – the one that will pull you out of the bed every morning, eradicate procrastination and drive you to collapse a month worth of work in…days
Design a 6 figure business that funds your vision, have plenty of play and family time and still deliver all of the impact you ache for…while working only 3 days a week
Recognize and attract a stellar "perfect match" team of people who's genius will eclipse your weaknesses and who will burn to help you see your vision through
Create a plan that will map your first 100K, keep you accountable, protect the fun in your free time and grow your impact…for you      
MESSAGE
48 hour to endless Soulmate clients: become the unique leader worth following in two days [even if on one has ever heard of you]
Glow in the dark for your Soulmate clients: become visible and speak only to the Soulmate clients already destined to work with you
Become the unique leader worth following and understand what is so special about you – shamelessly exploit your gifts and deliver from your genius only
Package your genius and your spiritual gifts in a way that your Soulmate client immediately understands the value of your work that surpasses any fee you ask in return
Why wait? Start enrolling clients within the first 24hr with a simple, step by step plan filled with strategies you can execute…today   
IMPACT
Ignite your voice and step into your 5 figure TALKS [even if you are scared to death of public speaking]
Get booked as a speaker even if no one has ever heard of you
Deliver a talk that pre-sells your packages, creates an unbreakable bond between you and you people – while they reach for their credit cards before your talk is over
Start magnetizing your audience before you even open your mouth – convey "you can trust me" and "I know exactly how to help you" just by…being
Sell from the stage so seamlessly and without sleaze, that your people are already imagining working with you
MINDSET  
Unleash the Bada$$ Creatrix in you, crack the whip and lovingly command money and… create what you want – when you want it…with your eyes closed
Eclipse the paralyzing fear with unconditional, ready-to-move-mountains knowing that the money is ALREADY there…any time you need it, as much as you need it
For the first time understand how YOU can command money to…show up right NOW in the exact client number + fee level YOU decide and …. STAY
Finally feel safe to be seen, claim your leadership Power and start Stirring: BE that expert in the eyes of your peers, become irresistible to the clients that create amazing results and send you back the referrals and become a leader worth following
LEGACY 
Fulfill the impact ingrained in your DNA, learn how to inspire big players into joining your team and spread your message like a wildfire
Let your bada$$ Creatrix make all the connections you need…for you. Learn how to approach and inspire attention with absolute, irresistible boldness…one that will even inspire Oprah to be on your podcast
Be seen by a 100,000s of your people who are already waiting for you, become the "to watch out for" person in your niche
Collapse the time on everything you thought possible and plan your next 90K in 90 days
Your Ignite Mastermind Program Benefits Include:
3 Multi-Day LIVE Business & Mindset Retreats
Weekly Mastermind Group Calls with Carolin
Mastering the Masculine and Feminine Curriculum
Ignite Mastermind Facebook Forum
Access to Carolin's Training & Programs (at company discretion)
Access to Carolin's intuitive Guidance

This program is for you if you are:
✓ Ready to shatter your spiritual hiding box, ignite your voice and start marketing with iron authenticity that stems from the very depth of your heart [never feel like the fraud again]
✓ Knowing in your heart of hearts that you are meant to stand in front of your Soul tribe and make a BIG difference [and a big money] in the lives of 1,000s or even…millions, but right now it feels like it will take you two lifetimes to get there
✓ Done with being quiet and whispering your truth with shaky voice. It's time to roar from your heart and start a revolution…nothing less
✓ Making 1K – 5K monthly and have graduated from working on weekends [with high honors] AND worrying that if you get one more client your kid will start referring to you as "that lady" [not to mention that making a tad more
✓ Ready to leave the scared little girl behind, embody and start reveling in the powerful female lurking behind her while confidently claiming the leadership of your Soul tribe
Program Benefits:
✓ Raise your business to 50K, 100K…or beyond in 6 MONTHS
✓ Unleash the bada$$ Creatrix in you and lovingly crack the whip on the misbehaving money: create what you want…when you want it…with your eyes closed
✓ Collapse the monthly time you spend on your marketing to…DAYS. BE only in the places your Soulmate client is already waiting for YOU, SAY what they already want to hear…in their secret language that makes YOU the leader worth following
✓ Speak to 5 figure weeks or DAYS…understand the art of 5 figure income injections with ZERO cost….any time you need them…in any niche [and any country]
✓ Stop feeling like a lone warrior and join a tribe of women who will support you, cheer for you and…hold you accountable to your EVERY word

"Immediately after my first online training I got a high-paying client for my launch program"
"I signed up to work with Carolin because I have wanted for a long time to venture into public speaking. It ALSO really came at the perfect time because I was struggling with how to connect with my audience in a more intimate way even when I was hundreds of thousands of miles away while doing free online trainings.
 By participating and implementing everything that Carolin said to do, I could immediately feel a difference in the level of connection that I had with my potential clients. I felt more at ease during my online trainings because it was easy for me to remember everything that I wanted to say and to focus my intention, energy, an intuition towards creating a difference for my prospects which eventually turns into paying clients.
Immediately after my first online training I got a high-paying client for my launch program that's specifically cited my free online training as being one of her major deciding factors! And because it's so EASY I can now increase the amount of trainings I am doing, reach more people, and create a bigger difference with my topics by using this format. I have also scheduled my first LIVE speaking event and I am very excited because I know just how easy it's going to be for me to stand up and speak confidently to my audience.
For anyone wanting to do this, I haven't found anything easier that really helps you conduct yourself with full integrity, creating Real transformation in your potential clients, and converting them the easiest possible way. Just do it. It will be worth it."

"I generated more than my income goal for the year 
in less than three months (50k)!"
"I have experienced huge shifts and transformation in both my business and life in just a few short months of working with Carolin Hauser. As a direct result of our work together, I've left a full-time job and created a 'portable' location-independent business that I love and am able to run from anywhere in the world I choose. Today I work virtually with my ideal clients, professional and entrepreneurial women from all around the world, helping them to create their own sustainable business marrying up what they love and living life on their own terms.
What else? I generated more than my income goal for the whole year in less than three months and I'm attracting ideal clients who want to work with me and create their dream biz and life too. I've also been honoured to co-author two books and become a #1 Bestselling author. I get to indulge my passion for travel and, In the last four months alone I've been in London, Dubai, Malaysia and Thailand. I'm currently residing at the beach in a tropical location in South East Asia.
There is something very unique about working with Carolin in that she offers some key pieces that I've not seen with any other coach. She delivers everything that you would want from a great business coach and mentor and then also, through her Family Constellation work and transformation tools you get to go deep and clear those limiting beliefs that are holding you back in any way from creating the life of your dreams. This makes for a unique level of support and allows you – if you are ready to move really fast – in the direction of your dreams and goals. All with relative ease and joy!"
– Linda Stewart, Portable Business & Lifestyle coach

Bonus: $2,500 Value Private Constellation Session
Slay Your MONEY Dragon Virtual Retreat                Value $2,500
Get crystal CLEAR on WHO is behind your unique MONEY Dragon/Demon and release their hold on YOU…INSTANTLY
STOP trying to THINK differently. Release subconscious energetic BLOCKS even if they come from DECADE of your family legacy…and IMMEDIATELY step into your next level of BEING
END the vicious cycle of COMPARING yourself to others and waiting for THEM to give you a HINT on what your next STEP should be…..let your SOUL plan your marketing.
Experience the iron clad CERTANTY when aligning with the PATH destined for YOU and stop DOUBTING yourself….the same DAY
The Ignite Private Program is NOT for you if:
You are just starting out and are yet to START working with paying clients
You are uncomfortable about being completely UNIQUE and UNCOMPERABLE
You are not ready to invest in your growth
You are used to leaving things up to the universe to decide
 You are uncomfortable with the idea of being one of the top leaders in your field
"I was able to manifest my dream relationship & bring in more money than I have ever done (200k)!"
"Carolin's work helped me identify some fears I had in sharing my authentic self in my business, fears I didn't even know I had. After working with her, I was able to manifest my dream relationship & bring in more money than I have ever done from a live event, one I do every year.

Carolin has rare and powerful skills, and a heart of gold to help you get where you want to go!"
– Jenn August, Business Hynotherapy Expert & Success Coach
"I have more money flowing to me, and it's amazing!"
"My work with Carolin has been very helpful. She creates a safe space to do the work. She is present, knowledgeable, and intuitive in her approach. After just one session with Carolin, I was able to shift years of "old" story and step into more presence. Since my session, I have lost weight, increased my income (made 12k), and I'm experiencing a stronger connection with my children. I have more money flowing to me, and it's amazing!"
– Ellen Benfatti, Ph.D., CRMT, and Founder, Step Into Being